Reverend Dr. "Chip" Blackshear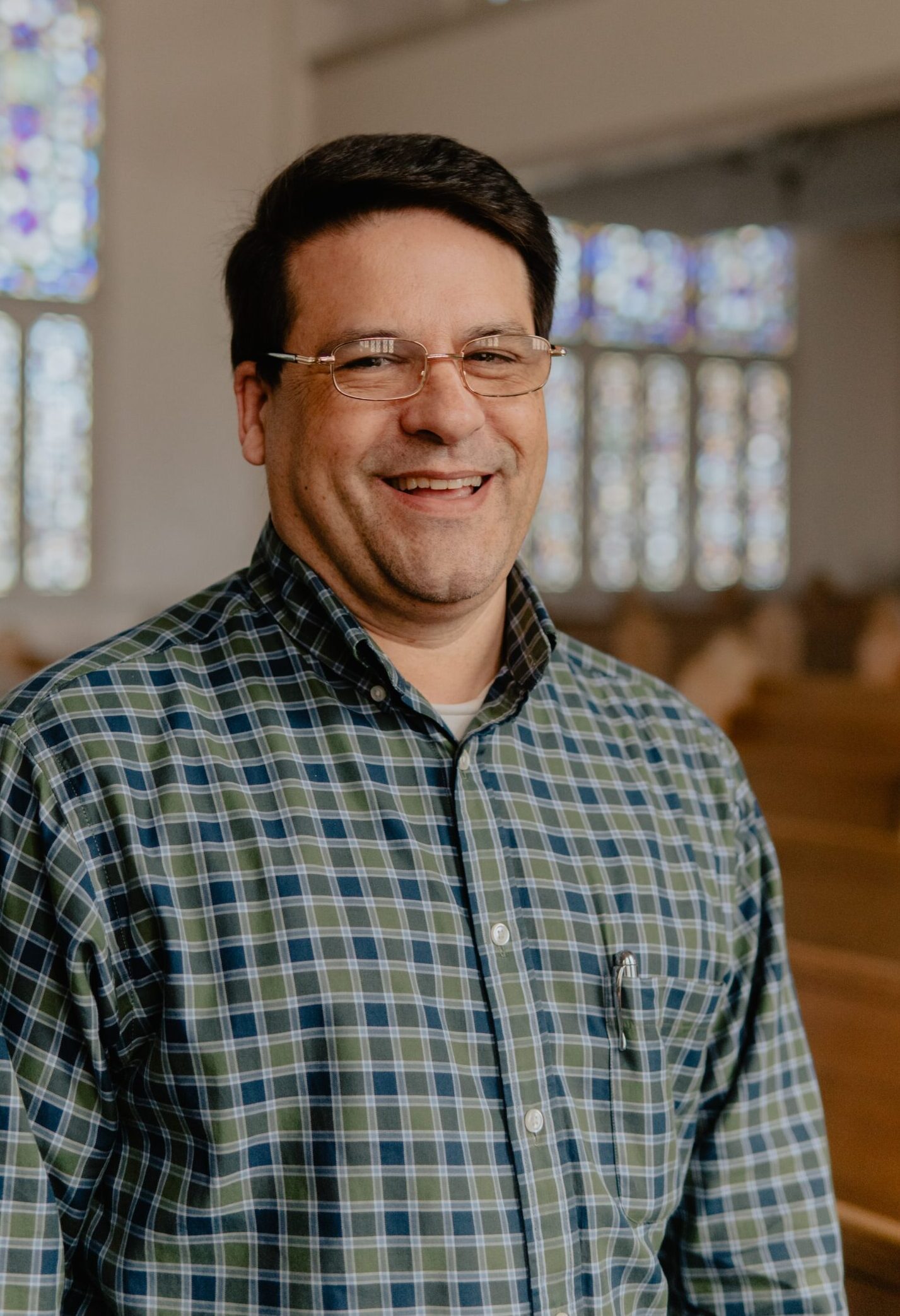 Rev. Dr. Charles Stewart ("Chip") Blackshear is the minister of First Presbyterian Church. Chip was born in California, the son of a U.S. Air Force pilot. He grew up in Baton Rouge, Louisiana, where he graduated from Baton Rouge Magnet High School. He met his future wife, Leslie, at that high school. Both were active in Young Life, and Chip is an Eagle Scout.
Chip and Leslie moved on to the University of Southwestern Louisiana in Lafayette, where Chip earned his Bachelor of Science in Business Administration, majoring in Marketing. Leslie majored in Child and Family Studies, then went on to earn a Masters in Social Work at Louisiana State University. Chip worked in the computer graphics and printing industry for seventeen years, running his own computer graphics company for eight years before feeling called to the ministry. Leslie worked as a Licensed Clinical Social Worker in adoptions and mental health before moving on to teach preschool and kindergarten.
For many years Leslie served in leadership with Bible Study Fellowship in Lafayette, Pittsburgh, and Corpus Christi. Both were very active at First Presbyterian Church in Baton Rouge, where Chip served as a deacon, and later at Grace Presbyterian Church in Lafayette where they worked with the youth and Chip served as an elder.
The Lord called Chip to Pittsburgh Theological Seminary, where he received his Master of Divinity degree in 2009. During his seminary years, Chip served as a seminary intern at Hebron United Presbyterian Church, a church of about 800 members with three worship services each Sunday. Leslie taught kindergarten at the Pittsburgh Urban Christian School.
In 2021 Chip earned a Doctor of Ministry (D.Min.) degree from Gordon-Conwell Theological Seminary in South Hamilton, Massachusetts, with an emphasis on Leadership in the Changing Church Context. His area of research was in disciple-making in the church.
The Blackshear's have two grown children. Michael, who earned his Eagle Scout in Troop 2, graduated in electrical engineering from the University of Tulsa in 2020. He and his wife Carlie live in Tulsa, Oklahoma. Robin is a senior studying film and video production at TAMU-CC, and is a Young Life leader at Gregory-Portland High School.
Chip is passionate about helping people become disciples of Jesus and is especially interested in helping young adults get connected to the faith and to the church.