History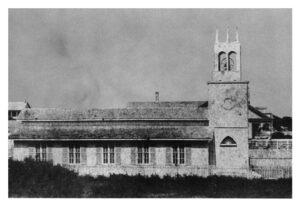 The First Presbyterian Church of Corpus Christi was formed on May 12, 1867, following the Civil War,
with eight members. Construction materials were purchased for a new church building, but the ravishing yellow fever epidemic in the summer of 1867 (which killed one-third of the city's population) also killed the c
hurch's minister and one member. The wooden construction materials were then used for coffins.
In 1868 the church's first building was built on
what is now the p
arking lot of the Wilson Building, on N. Upper Broadway between Mestina and Leopard Streets. It was without window panes or pews and had only a dirt floor. By 1875 the membership g
rew to fifty, and in November of 1882 building began for a manse on the lot in back of the church on
Carancahua.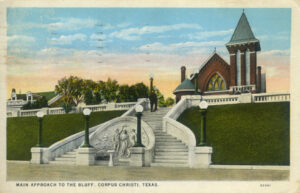 Early in the 1900's lots were purchased where the present Six Hundred Building is located, and the First Presbyterian Church, a handsome red brick structure, was erected by Henrietta King in memory of her husband, Capt. Richard King. Beautiful Tiffany stained glass windows which were designed by Louis Tiffany were added in memory of Henrietta's father w

ho had established the first Presbyterian Church in South Texas in the 1850's
located in Brownsville, Texas. Following the disastrous hurricane and tidal wave of 1919 the Red Brick Church served as shelter and sustenance for the city, when the women of the church served food to about 700 people a day.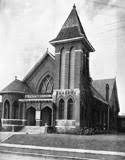 In 1903 Mrs. Rachel Doddridge bequeathed her three story home in the 400 block of S. Upper Broadway to the church, and on August 17, 1930, the present sanctuary was built and our church moved there into its present location. Next, the church's offices, choir facilities, library, chapel and children's Sunday School rooms were added. After World War II the buildings were air conditioned and the lots north and south of the building were purchased. Then, during the church's Centennial Celebration in 1967 a new wing was added to house Kleberg Hall, the living room, kitchen and additional class rooms.
In October 2017 First Presbyterian completed a year-long gracious separation process from Mission Presbytery, PC(USA) to unite with ECO: A Covenant Order of Evangelical Presbyterians. ECO is a denomination of more than 450 churches nationwide. One of the key differences between ECO and PC(USA) is the way we understand the mission of the Church and how that mission is carried out. First Presbyterian Church continues to see the mission of the church as making disciples of Jesus – the mission of the congregation is to carry out that mission of making disciples.